We have found the most amazing local producers/vendors to partner with and showcase many delicious items while raising funds for our residents and lodge activities.
For the past 18 months, we have not been able to host our regular fundraisers due to the pandemic and the restrictions in place. The funds raised throughout the year are used to offset the activities expenses and a portion goes to a resident fund which they use for various items (resident managed).
This year we have decided to host one large fundraiser with the net proceeds to be split between activities and the resident's fund.
With a minimum of a $250 donation, we will gift the donor with a picnic basket filled with the local products shown below ($200 re­tail value) and a donation receipt for the full amount. Flavor of products may vary in each basket.
Our Local Partners: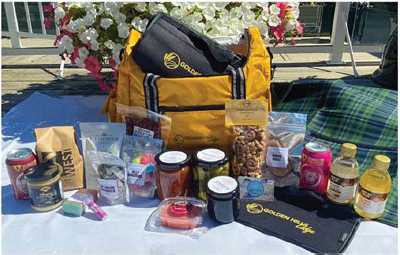 Golden Acres Honey farm • Three Hills
Little Bird Bakery • Three Hills
The Farm Basket • Three Hils
Bauer Meats • Torrington
Shirley's Greenhouse • Didsbury
Granny's Fudge Factory • Delburne
6West Coffee Roasters • Three Hills
Siplicious • Linden
Quinta flora • Three Hills
Delicious Harvest Company • Sunnyslope
A limited number of baskets are available